Thank you for visiting our website.

Our firm offers responsive and cost-effective Canada, USA and international immigration legal solutions for high net worth individuals, small to medium-sized enterprises, international students, families, skilled professionals and some of the world's largest multinational corporations.

A unique feature of our firm is that key professionals are highly regarded former visa and immigration officers. This allows us to provide quick and effective immigration solutions utilizing our government-side perspective, knowledge and experience.

For a complimentary overview of USA, Canadian or International immigration legal solutions for your circumstances, please visit our Getting Started page. We look forward to assisting you.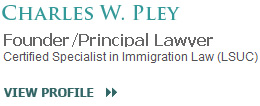 New Tech Talent Strategy Initiatives for Canada



Charles and his team provide prompt, knowledgeable service; doing the right thing quickly and efficiently. The fee is good value for the high quality service. We have confidence in them handling our immigration matters.
- Michael S. McTeague, Senior Counsel, Diagnostic Sector, MDS Inc..