Thank you for visiting our website.

Our firm offers responsive and cost-effective Canada, USA and international immigration legal solutions for high net worth individuals, small to medium-sized enterprises, international students, families, skilled professionals and some of the world's largest multinational corporations.

A unique feature of our firm is that key professionals are highly regarded former visa and immigration officers. This allows us to provide quick and effective immigration solutions utilizing our government-side perspective, knowledge and experience.

For a complimentary overview of USA, Canadian or International immigration legal solutions for your circumstances, please visit our Getting Started page. We look forward to assisting you.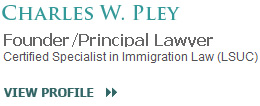 WE HAVE MOVED



We have found Charles and his team to be very professional, with a high level of knowledge of the process and requirements for obtaining US work visas. We have obtained over 10 US work visas for our employees, drawing from various entrance categories as appropriate. Our experience with Charles and his group has been very positive.
- Gord Johnston, M.Eng., P.Eng, Director of Projects,
Hansen Information Technologies Canada Inc.